Oceans
BC snowmelt may wash flood debris downstream to ocean
While cleanup is continuing on the Fraser and Chiliwack rivers, hundreds of debris sites along eight BC waterways have been cleared.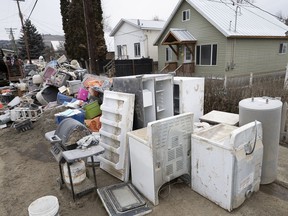 Article content
BC river watchers fear rising water levels during spring snowmelt may pick up flood debris deposited by November's severe rainstorms and wash it downstream into the Salish Sea.
Article content
"Whatever hasn't been cleaned up yet, Mother Nature is going to clean up," said Rick Hauser, who spends many hours in the BC backcountry.
Hauser was trapped in Hope during the flooding and spent five days camped along the Fraser River where he saw appliances, kitchen cabinets, "too many plastic coolers to count" and a wooden front porch rushing downstream. the river. "
When water levels eventually dropped, some of the debris was deposited on river banks and gravel bars.
"I think the government has dropped the ball," said Hauser. "As soon as the water hits the level of the November floods, it's going to pick up all kinds of garbage and wash it into the ocean."
Earlier this week, the provincial Environmental Emergency Program reported it had removed "all known high-risk debris" from five major BC watercourses, including the Nicola, Coldwater, Thompson, Tulameen and Similkameen rivers. Photos posted on Twitter show excavators removing debris buried in silt and helicopters transporting bags of "woody debris."
Article content
Ground crews will continue to focus on the river banks, while "all remaining debris in these rivers will be assessed for removal post-freshet," said the update.
Work to remove "large human-made and natural debris" from the Fraser and Chilliwack rivers continues.
Article content
In a statement, BC Environment Minister George Heyman said "preparing for the potential that the spring freshet could release more debris is a critical part of our plan."
Over the past five months, hundreds of debris sites along eight waterways have been identified and a majority have been cleared, he said, thanking First Nations, municipalities, local contractors and volunteers for working together to remove potential hazards and restore watersheds.
"The initiative has employed almost 500 people in local and Indigenous communities."
But some river watchers believe the government should have moved more quickly.
"I haven't seen a co-ordinated government response," said Dean Werk, president of the Fraser Valley Salmon Society. "Paralyzed is probably the word I'd use to describe it."
Article content
Werk, who is also the Indigenous adviser to the Fraser Valley Angling Guides Association, helped mobilize members and volunteers with jet boats to rescue people and transport supplies during the flooding. That effort eventually "morphed" into a massive cleanup mission to remove debris from the river. While some communities were responsive and provided garbage bins, others were less helpful.
"We took upwards of 20 tonnes of toxins and plastics and garbage that would have washed out to the Salish Sea," said Werk, who owns Great River Fishing Adventures. . ""
Article content
Watershed Watch engagement manager Roxanna Kooistra said she expects cleanup events planned for the Gulf Islands in a few weeks may find flood debris that washed down the Fraser River.
A member of Chilliwack Search and Rescue, she spent several days in the Sumas Prairie area where she saw fertilizer, chemicals, gas, diesel and oil floating on the water.
"The oil spill was reported, and in a normal situation, there would have been a massive cleanup effort," she said. "But all that water was pumped out and into the river and then washed into the ocean."
Kooistra said it has been heartening to see the volunteer cleanup effort, but "I think there's a lot of debris still out there."
Ross Aikenhead, a director with the Chilliwack Vedder River Cleanup Society, said the Fraser River remains low, with much of the snowmelt delayed by the cool spring weather.
Article content
"Whatever is left up there hasn't come down yet."
BC, Ottawa not ready to shift from disaster response to disaster prevention

Not keeping up is catching up with BC

Why BC can't always build its way out of risks
gluymes@postmedia.com
---
Read our entire Fire & Flood: Facing Two Extremes series:
• Part 1: Fire & Flood: BC is facing two extremes — is your community ready?
• Part 2: Not keeping up is catching up with BC
• Part 3: Spend now or BC fire damage could get far worse
• Part 4: BC First Nations fight for a seat in planning fire and flood defenses
• Part 5: Where wildfires burn in BC, worse flooding is sure to follow
• Part 6: Hundreds still displaced after homes destroyed in 2021
• Part 7: Why BC can't always build its way out of risks