Farming
Chester County Farmer Values ​​Being Small | main edition
POTTSTOWN, Pa. — Abby Bramm swiftly decided to direct market the milk from her family's small herd as the pandemic hit. Two years later, she's astonished at how Pigeon Creek Farm is thriving.
"At the time, we didn't have the full vision until 2020," Bramm said.
Bramm has loved dairy cattle since she was a teenager. Her dream to own a farm came true in 2019, when she and her husband, Mike, bought Pigeon Creek. Like a lot of people Bramm, who was a Penn State Extension program assistant, was let go during the pandemic. So she re-evaluated and seized the opportunity to retail her family's milk. Unlike most small Pennsylvania family dairies that market their products to consumers, Bramm only milks five cows instead of the average of 89. The herd is a mix of Holsteins, Jerseys and Ayrshires. Some of the cows are also 4-H projects for her two daughters, Lily and Heidi.
Micro dairies are small farms with limited acreage. Bramm's farm is 32 acres, with most of the land being used as pasture for the cows. Micro dairy farming works for those like Bramm, who farm on a limited amount of land in growing suburban areas. It also emphasizes the importance of community members and farmers working together.
"We are working within the availability of land and are able to sell our milk back into our community," she said.
Milked twice a day, the five cows produce a total of 30 gallons of milk. The milk goes into a bulk tank. For three days throughout the week, Bramm transfers the milk to be heated at 145 degrees at 30-minute intervals in the farm's vat pasteurizer. Once the milk has cooled, Bramm bottles or "jugs" the milk into pint, half-gallon, or gallon plastic containers.
Raw milk was Pigeon Creek's first dairy product line as it was the most cost-effective for Bramm to grow sales. She expanded the line by offering different flavors like chocolate milk and maple-flavored raw milk. Since she debuted the chocolate milk, Bramm has had difficulty keeping it in stock at her farm store's cooler.
"People are really drawn to something they enjoy," she said.
Fluid milk sales are essential for Pigeon Creek. As the farm developed its customer base, Bramm would send out 80 gallons of milk to two local cheesemakers to make into cheese curds and yogurt every second week of the month. But now with a robust and reliable community of buyers, she is shipping out only 50 gallons or less at a time.
"As milk sales grew, we've begun taking less milk for cheese. It's enough to make a supply of cheese but not enough to short us on fluid milk sales," she said.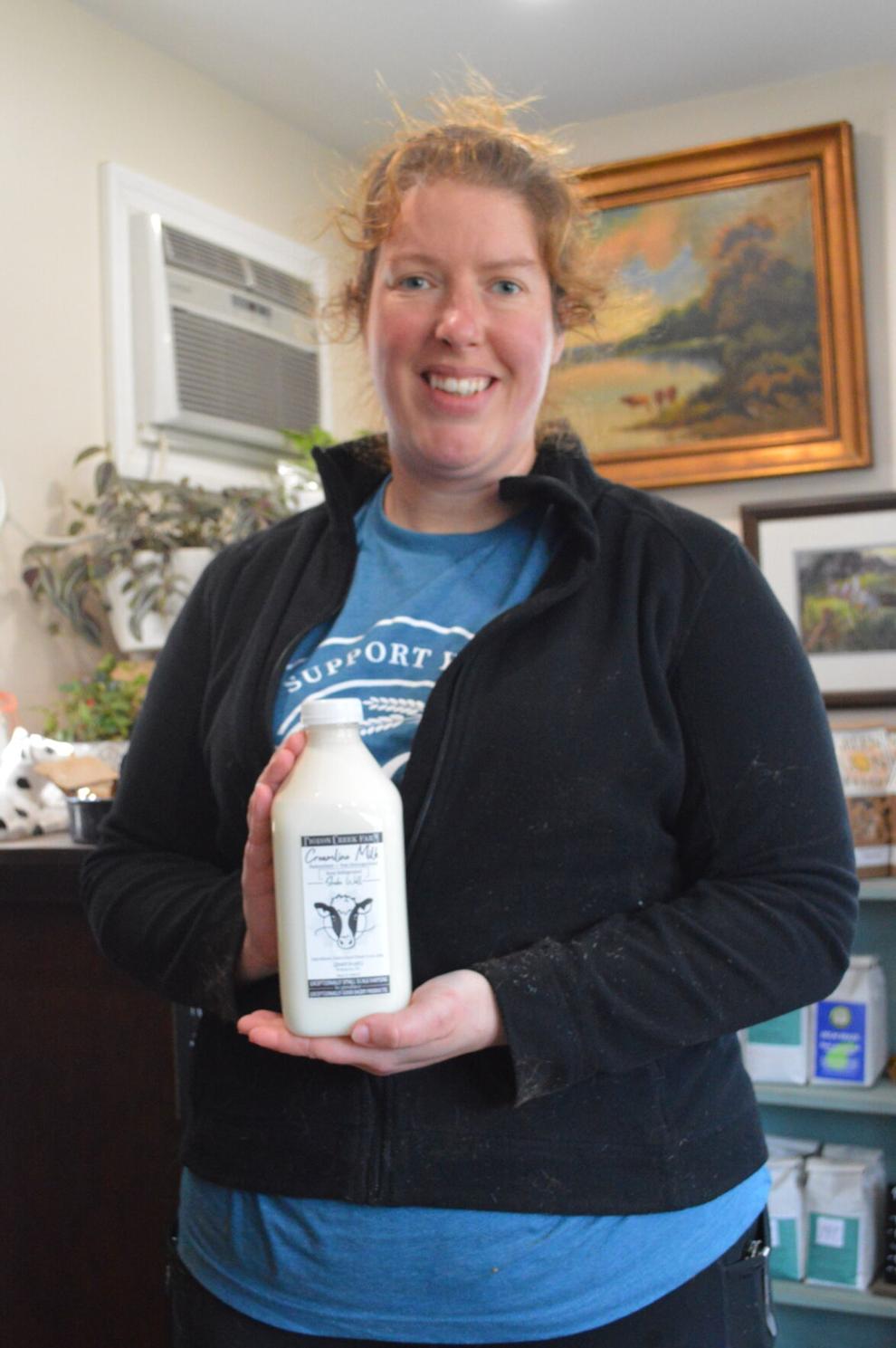 The increase in sales could also be from Bramm's efforts to connect with the store's customers. She noticed that new customers quickly become regulars when they realize she or a family member is the one who is behind the counter. It's a challenge balancing dairy farming and retail on any scale, but Bramm makes it easy through cameras that ping her phone when they detect motion in front of the store. Pigeon Creek has also motivated Bramm to be an advocate helping bridge consumers to the dairy industry. She often tells how similar her micro-dairy and larger dairy farms are.
"I often say, we are small, but we use practices that other farms twice our size also use," she said.
An example is when she invites her customers to watch a hoof trimmer work on her cows' hooves. She encourages them to ask questions so she can explain that this is a good animal-care practice that many dairy farmers do daily to ensure they are giving the best attention to their cows.
"Being small is so valuable. It's an honest place and perspective," Bramm said, adding "every person that I have talked to can relate at the human level."
After Bramm's explanations, many can understand the rhythm of dairy farming, especially as they connect with her, their local dairy farmer. Looking back, Bramm feels good about her decision. Pigeon Creek allows her to have the best of both worlds — working with dairy cows and connecting consumers with a tasty product.
"It gives me both," she said
.