Individual students may also propose and lead their own project. Particularly, students are encouraged to explore undergraduate research opportunities and are connected with MSU researchers who share their passion area.
"When a student can meet and work alongside the MSU faculty doing research in their area of ​​interest, we know there exists a greater likelihood of academic success," says Laurie Thorp, RISE director.
First-year student Alassane Sow shows off a morel mushroom grown in the RISE hoop house as part of an undergraduate research project. Photo by Jorhie Beadle.
Alassane Sow, a first-year student in the College of Natural Science, is working with Greg Bonito, associate professor in the College of Agriculture and Natural Resources, on a process for growing morel mushrooms year-round. This could allow farmers to earn profit outside the growing season.
"This project is an intersection of my passion for fungi and my previous farming experience," says Sow. "It has been great at teaching me more mycology and opening more opportunities to conduct research."
Recently, RISE partnered with MSU's Burgess Institute to open the Venture Kitchen as a space for students to develop food-based startups and products. The fully licensed commercial kitchen in the MSU Union is designed to support and encourage student food-based innovation and businesses.
"The hands-on opportunities immediately drew me in," says Ben Bridge, a first-year student in the College of Engineering. "However, what stood out to me most is that RISE goes beyond just environmental endeavors; their main focus is on making students better servant leaders. They want to help cultivate my skill set and curiosity, which in turn would lead to environmental consciousness."
Finding a place to belong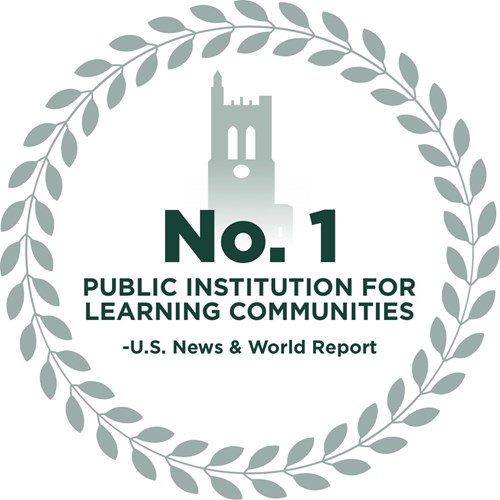 MSU has long been known for its living-learning programs, smaller learning communities that allow students who share similar academic interests to live together in a designated residence hall.
"The RISE program has given me so much support in finding out what I want to pursue in my future," says Catherine Maurer, a sophomore studying biosystems and agricultural engineering. "My first semester was a tough transition, and the advising and support from RISE was integral to my mental health and success at MSU."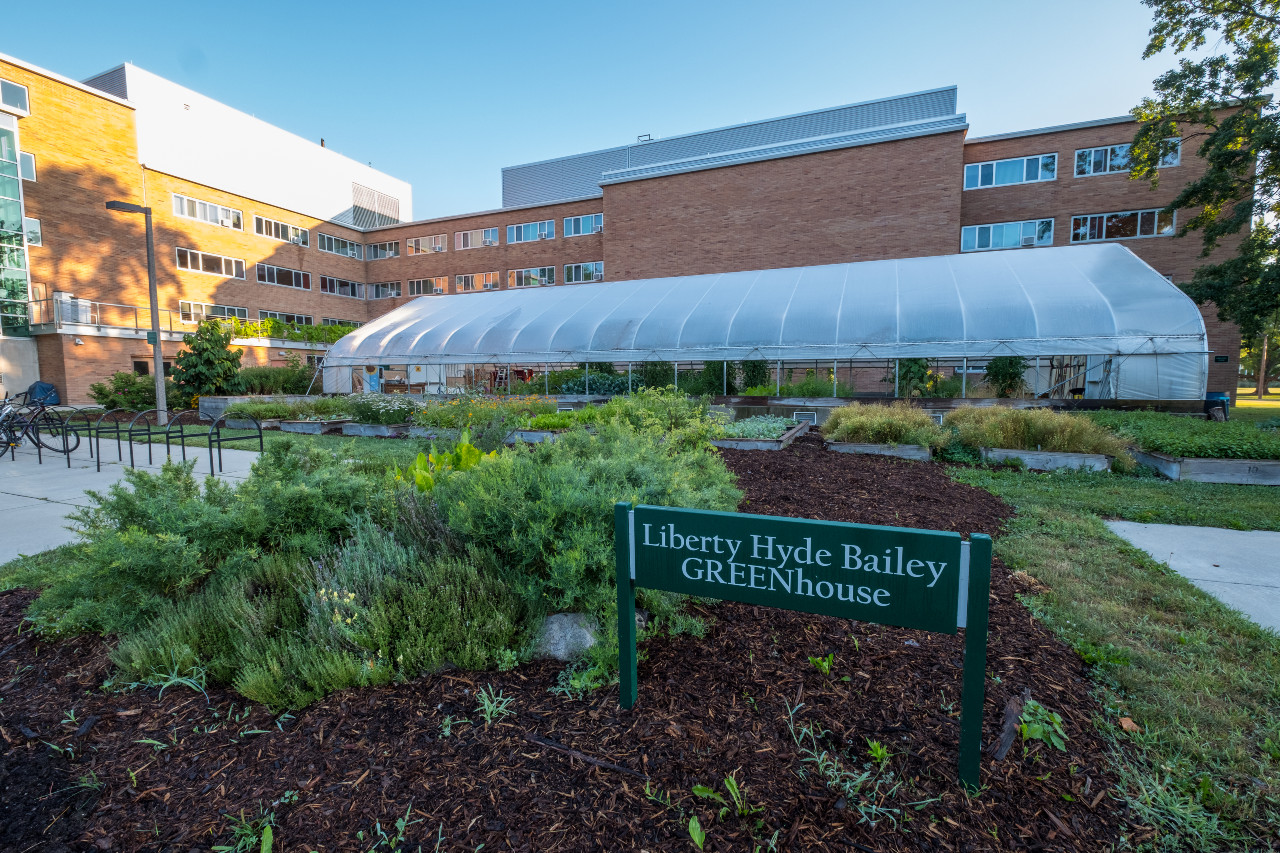 Bailey Hall and the Bailey Greenhouse and Urban Farm are named after Liberty Hyde Bailey, the 19th-century MSU professor known as "America's Father of Modern Horticulture." Photo by Jorhie Beadle.
As a residential learning program, the RISE staff can provide in-hall academic advising and peer tutoring. There are also weekly workshops to engage students in further hands-on learning and provide skills for academic success. Topics include time management, healthy study habits, purpose-finding and mental health care.
"As we continue to navigate the COVID-19 pandemic, we are focused on how to best serve students dealing with that trauma," says Jorhie Beadle, RISE assistant director. "We started hosting 'crafternoons' as a time when students can get a reprieve from too much time in their heads and in front of computers. It is also a safe space for students to talk about the daily stressors of being in college."
Feeling empowered to make change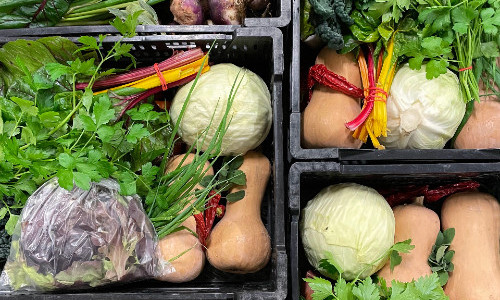 Multiple varieties of seasonal, fresh produce are packed into crates for distribution to CSA members. Photo by Sarah Geurkink.
Five miles south of Bailey Hall is the 15-acre MSU Student Organic Farm, part of the Horticulture Department in the College of Agriculture and Natural Resources. The farm was created in 1999 by a group of students who were interested in learning how to grow food sustainably, and by 2002 they'd expanded to become the first year-round community supported agriculture, or CSA, program in Michigan. CSA members pay a fee and in return, receive seasonal produce grown by students on the farm.
"I do not have green thumbs and cannot grow a vegetable garden on my own. However, our family cares about eating fresh, locally produced organic vegetables," says Antoinette Tessmer, associate professor in the Eli Broad College of Business and long-time member of the Student Organic Farm CSA. "The MSU CSA has been a great solution for our family. The students work hard on customer service whether that is in person or via email."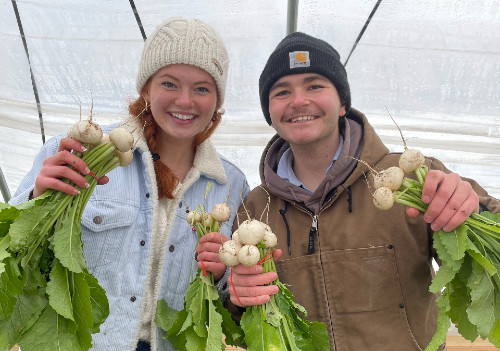 Julianna Adams and Jacob May are proud of the successful results of their work – fresh, organic turnips. Photo by Sarah Geurkink.
Today, the farm is a certified organic, year-round teaching and production farm. It offers an immersive, hands-on farming experience for undergraduate crew members, participants of the Organic Farmer Training Program and volunteers. The farm also collaborates with MSU faculty to offer courses in organic farming, internships, interdisciplinary educational activities and research opportunities.
"Ultimately growing the produce isn't the point; we are making a difference by growing people to be agents that feel empowered to make change," says Sarah Geurkink, the farm manager. "I love the moment when I can stand back and the student crew is operating on its own. They are talking to each other, figuring out what to do next and taking pride in ownership.
"These students find a power they didn't realize they had."