Farming
Jim Shulman: What ever happened to Fairdale Farms? | History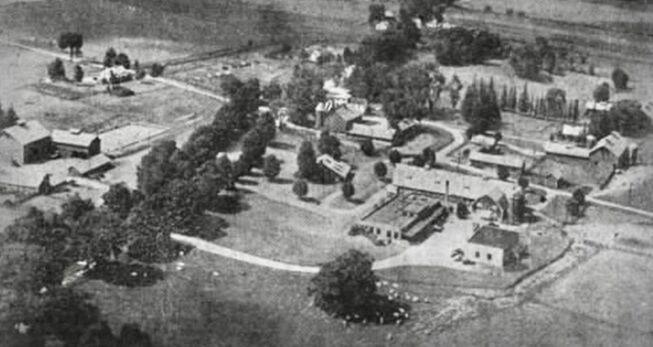 Long gone are the days of home milk delivery. As a youngster in the 1950s, I thought it might be my future career to be a milkman.
After all our Fairdale Farms milkman, Mr. (James C.) Kirchner, seemed to really like his job. He not only delivered milk, which many dairy route men did back then, but did much more.
On his deliveries he would just come into our house and go to our refrigerator, check our dairy products supply and, without asking, replace items we bought regularly and add items if requested on a note. When we were home, he'd always stop to talk to the three of us kids. I enjoyed our chats about his family and their farm that he also ran.
In my teenage years I worked on several farms and one summer delivered milk to summer camps. Neither would have been the best lifetime career option for a baby boomer. I never forgot about Mr. Kirchner, but I always wondered what happened to Fairdale Farms.
In the late 1940s, when my parents moved to Pittsfield to raise a family, they tried several dairies for home milk delivery. Apparently, following the latest child rearing advice, they wanted the best quality of milk for raising their children. They settled on Model Dairy, which was actually purchasing much of its milk from Fairdale Farms and its predecessor, Fillmore Farm.
Fairdale Farms was located in Bennington, Vt., on a farmstead that dated back to 1768. In 1892, James C. Colgate took over the farm that had always been in his wife's family. (Colgate was the grandson of William Colgate the founder of the soap making Colgate Company and the benefactor of Colgate University.)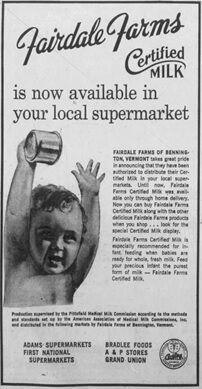 Through an earlier partial sale, the farm became the Fillmore Farm and was known for raising sheep. In 1927 under Colgate's ownership the farm became a major dairy farm. Colgate's son-in-law managed and modernized the Fillmore Farm, which at that time encompassed 3,000 acres, made up of 15 smaller dairy farms.
The operation had six departments with 50 full-time workers. It became widely known for breeding purebred dairy cattle and for its production of fine quality milk, poultry, maple syrup and crops. In 1946 the Fillmore Farm was sold to a corporation formed by the farm's employees, who renamed it Fairdale Farms.
The sale included 340 dairy cattle, and most of the land, buildings and equipment. The new enterprise was said to be the largest farm with the most modern dairy operation in the state of Vermont.
Fairdale farms became licensed in Massachusetts in 1951 and subsequently bought the milk production, routes, and trucks from its client of 20 years, the Reder Brothers' Model Dairy in Pittsfield. The Reders had found the Vermont organization to have especially high-quality milk that was produced primarily for infant feeding.
This was also likely why my parents, having three youngsters, continued with Fairdale Farms after the buyout. Model Dairy continued for another 16 years, primarily selling Howard Johnson and Hood ice cream products.
By the mid-1960s Fairdale Farms grew with contracts to provide its milk to several school systems and other Berkshire institutions, and the company had its products available in most grocery stores in the county. The dairy was one of the first in the region to use disposable paper cartons, reducing the costs associated with buying, cleaning and replacing bottles.
In 1967, Fairdale Farms purchased a large local competitor, the 47-year-old Pittsfield Milk Exchange. This purchase nearly doubled Fairdale Farms sales in Massachusetts and expanded its distribution into southern Berkshire County.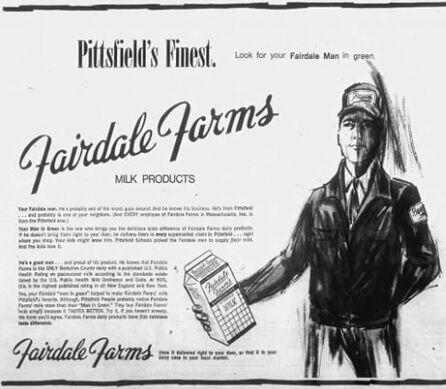 The dairy now sells nearly 45,000 quarts of milk daily in Massachusetts, New York and Vermont. Over 20 local dairy farms now supply Fairdale Farms as long as their product meets the high Fairdale quality standards that the company touts. Fairdale principals also prided themselves on keeping on board the former employees of both Model Dairy and Pittsfield Milk Exchange.
The company continued to process its milk in Bennington, but set up its local distribution facility and offices at the former Berkshire Woolen Mill complex at 363 Peck's Road. Daily, several trailer trucks brought the milk and dairy products from Vermont and loaded them at night into refrigerated delivery trucks to be distributed the next day.
As the 1970s came many of the smaller Berkshire County dairies closed shop, were acquired by larger dairies, or merged to form a bigger organization. As the large super grocery chains entered the market, more and more families bought their dairy products during grocery shopping. The demand for home milk delivery waned over the next decade until it totally disappeared.
The employee-owners of Fairdale Farms decided their best course of action was to sell their business rather than invest in alternatives to home delivery. In the mid-1990s Garelick Farms, a subsidiary of Cumberland Farms, bought Fairdale Farms and in 2002 closed the nearby large processing plant in Bennington.
Subsequently, a major food and dairy processing firm, Dean Foods of Dallas, bought Cumberland Farms and consolidated all the former Fairdale Farms operations into a plant in East Greenbush, NY Dean Foods also bought Hershey, Borden, Land O'Lakes, Friendly's and dozens of other well-known dairy related companies to become the largest dairy processing firm in the country.
More recently, in 2020, after several mergers and acquisitions, lawsuits, increasing debt, changing consumer preferences and other factors, Dean Foods filed for bankruptcy. The company was purchased by Dairy Farmers of America, an agricultural cooperative composed of 14,000 dairy producers. DFA has given farmers a long overdue organized voice in national policy and in meeting consumer needs nationally.
That's what became of Fairdale Farms. The original 1768 farm homestead in Bennington has become Colgate Park, an event center that is popular for weddings and festivals. And Mr. Kirchner, our congenial milkman, died more than 40 years ago at the age of 76.
.