Climatology
May 1, 3 PM Weather Forecast Update-Monitoring to See How Far North MARGINAL RISK Gets for Tuesday PM | News
April was cooler, mostly wetter & snowier than normal.
Every month other than March has been cooler than normal since January.
Every month has also been wetter than normal.
Every month of 2022 but January has been snowier than normal here.
_______________________________________________
Clouds thicken today-tonight with scattered showers developing this evening-tonight, then the steady rains arrive after 2 am
Big severe weather outbreak with MODERATE RISK (Level 4 of 5) will occur west of us this evening:
Steady rains tomorrow morning should then depart mid to late morning.
After a brief lull, scattered showers & t'storms are expected afternoon-early evening.
At this point, SPC has severe weather risk south of our area.
HOWEVER, there is the potential that the MARGINAL RISK is shifted northward into our area if we get more unstable than is currently projected. That is possible.
We will monitor.
East winds tonight should go south tomorrow then southwest to northwest tomorrow evening with wind gusts to 35 mph at times.
Highs of 66-73 are currently expected, but if we see more sun break through, we could see 68-75 (which would also mean that MARGINAL RISK shifting northward).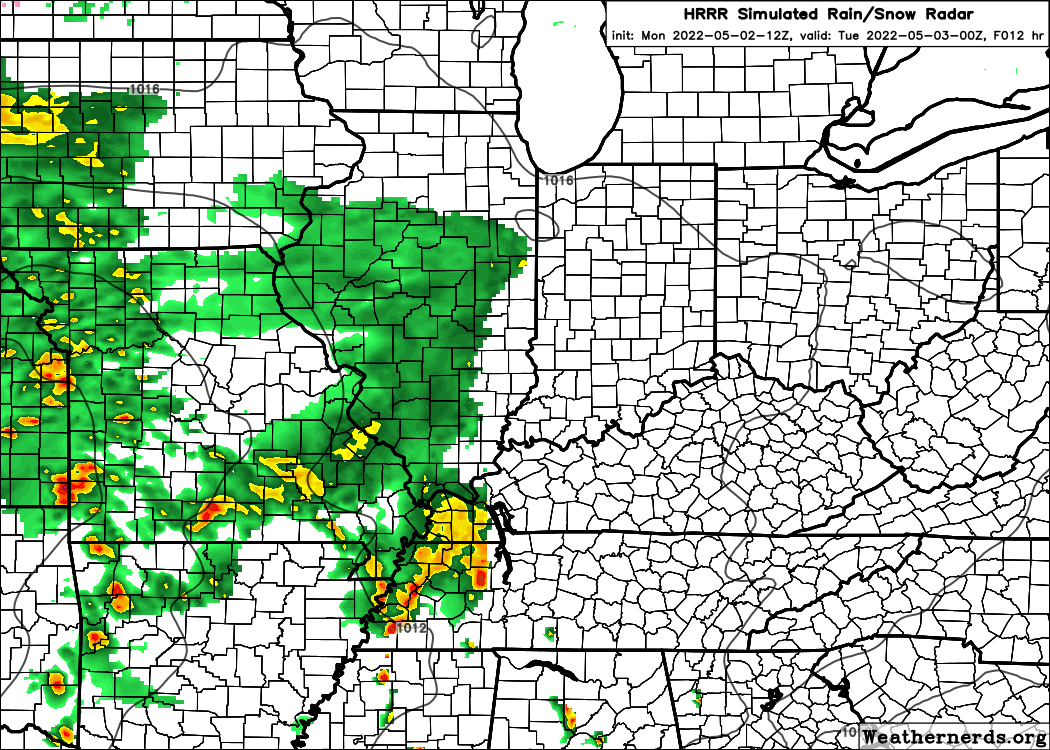 SPC risk area: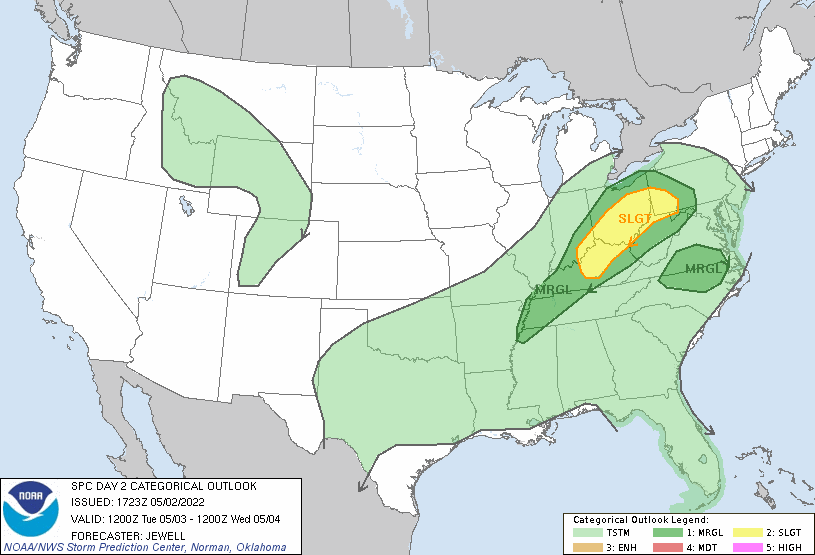 Total rainfall of 0.60-1.30 "is expected. I cut these totals a bit from the 0.75-1.75" projected a couple of days ago.
After a few showers tomorrow night, Wednesday looks mostly cloudy, then becoming partly cloudy with strong north to northeast winds to 33 mph.
Already, the next system will be edging closer on Wednesday with potentially ANOTHER day of MODERATE RISK (Level 4 of 5) in the Plains.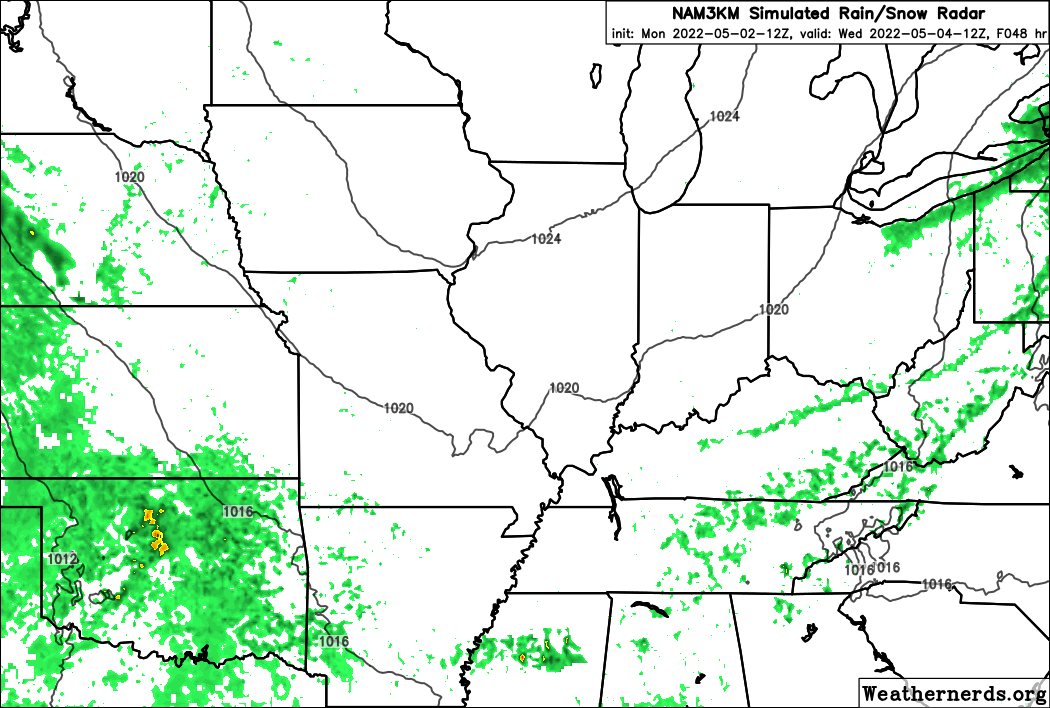 As of early Thursday morning, severe weather outbreak will be on-going in the Plains, while we will be turning mostly cloudy with rain moving into western Illinois.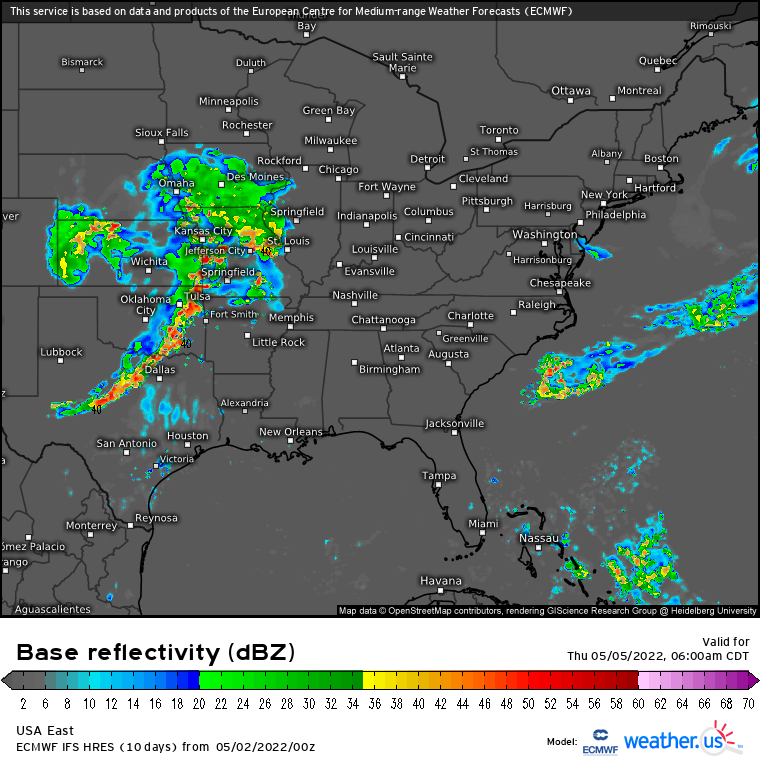 Here, it looks like a wave of rainfall & a few t'storms Thursday.
Severe weather risk looks to set up from southern Indiana to the Gulf Coast.
The worst of the severe weather risk is southeastern Missouri, western Tennessee to Arkansas & Mississippi where MODERATE RISK (Level 4 of 5) parameters are showing up yet again.
At this point, the MARGINAK RISK-type parameters get as far north as I-70 in Indiana with SLIGHT RISK parameters up to I-64 in Indiana.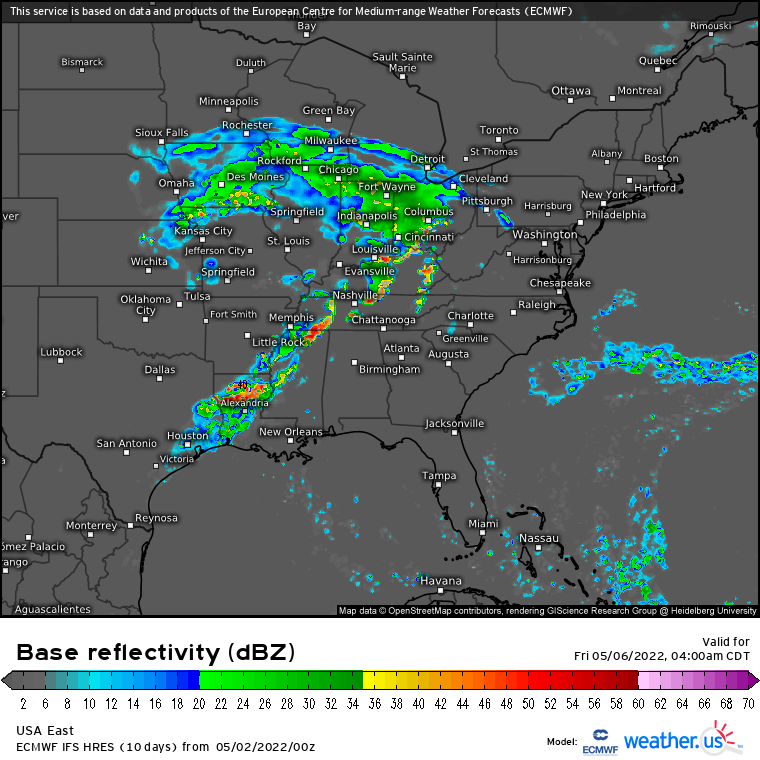 As for Friday, we will be right underneath the cold upper low. With lots of cold air aloft & lower freezing levels, the risk of some small hail will exist with showers & a few t'storms.
Cold air funnel risk may also occur.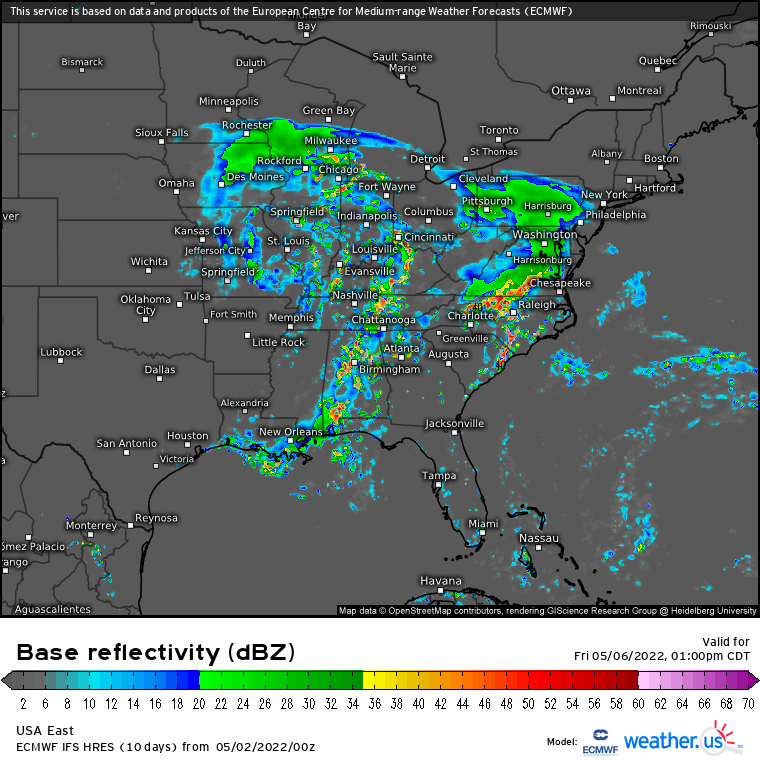 Cool, showery weather may linger into Saturday with north winds.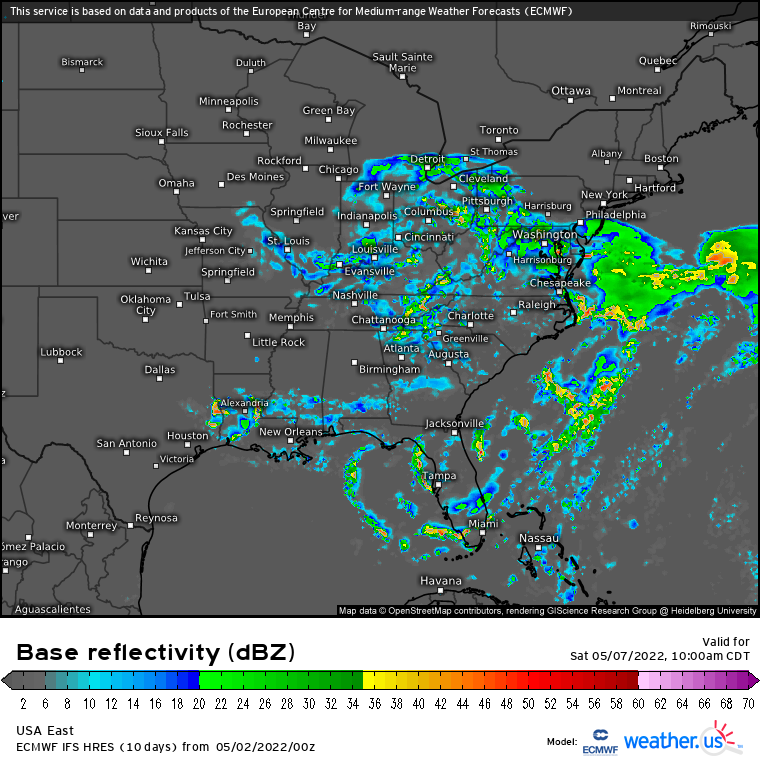 Some drizzle & spits of rain are even possible Saturday night with low clouds & cool north winds.
That puts the kabosh on any sort of frost risk.
At this point, if we play our cards right & get the warm front through on Sunday, we will be spared ANY patchy frost development Sunday night.
We will monitor.
Regardless, Sunday looks partly cloudy to mostly sunny with northeast winds.
Major change then quickly occurs next week.
Look at the big warmth developing & moving eastward!
We could be at 80 by Tuesday & in the 80s later next week!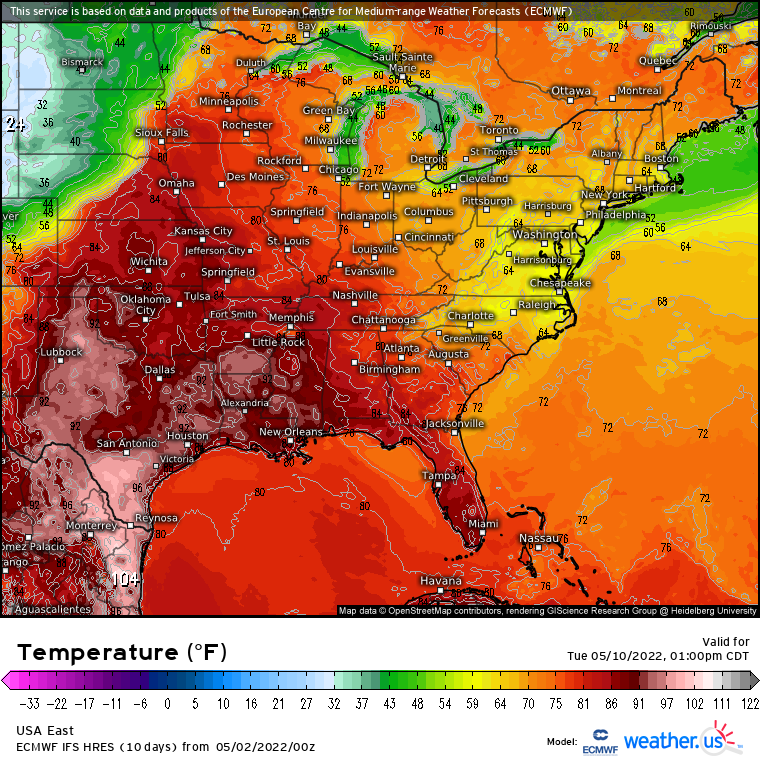 It also looks dry at this point.
All of the severe weather risk (some violent) will line up in the Plains as surface lows pivot from Colorado & Wyoming to the Dakotas.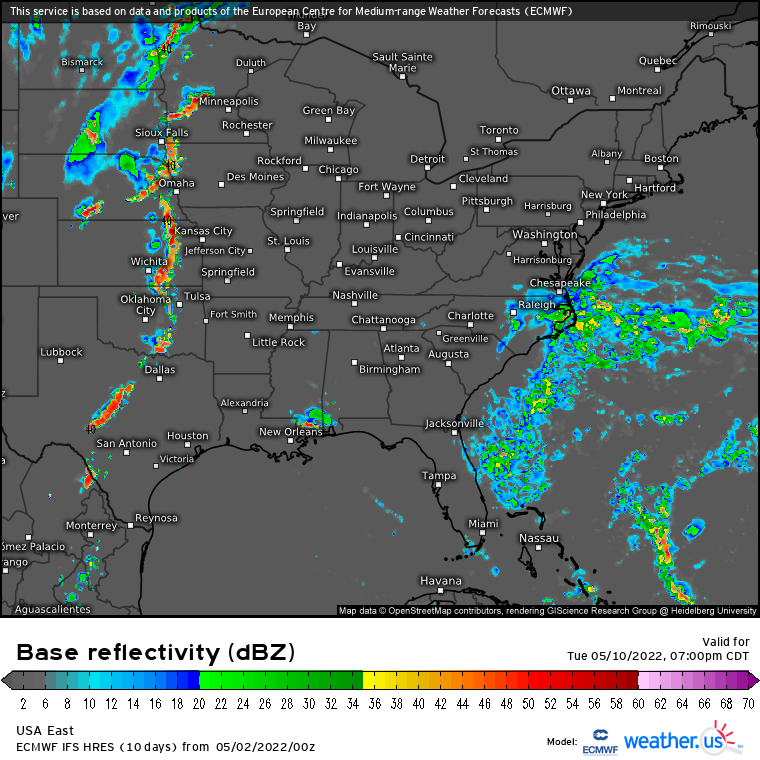 After a dry period with farmers getting out & doing field work & planting, we will likely see a couple periods of storminess & bouts of cooler weather.
When you have negatively-tilted upper troughs & vort maxes like the one below coming through with heat & high humidity here, you are asking for a severe weather event to outbreak.
Could they all dance around us like every severe weather event-outbreak this spring with severe weather Illinois, Wisconsin, Ohio, Kentucky, southern Indiana, etc., but not here?
Well, anything is possible, but my mind goes on climatology & analysis.
This is a climatologically-favored time of year for severe weather during this period & our luck has to run out eventually. It is just the odds.
It is like Gonzaga basketball being a powerhouse & ranked 1 or 2 every year. The odds are that after getting taken out of the tournament unusually early year after year for more than a decade, they will eventually win a national title.
It is also like Purdue. The magnitude of talent Purdue has year after year & year & the consistency of winning for decades, you have to know that we have the odds in favor of us getting to the Final Four or winning a title in the coming decade.
We are one of the very few schools in the US that have such a winning record & such a successful program (from a consistent, mathematical standpoint) to not go beyond the Sweet 16 at a consistent level or win a national title.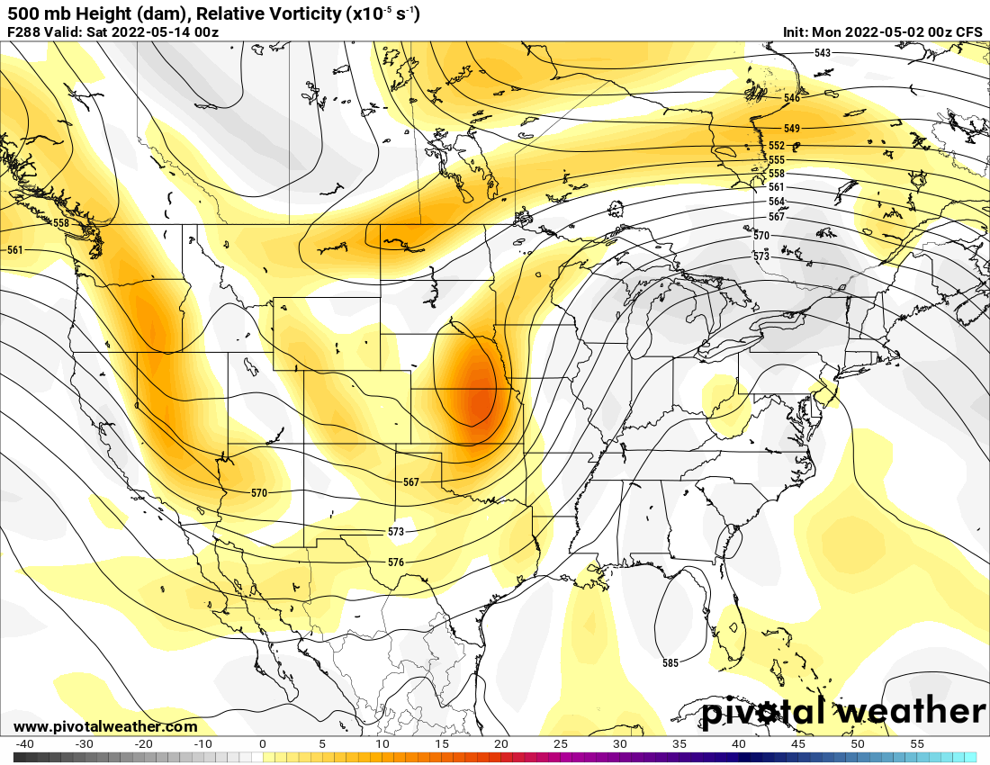 We are still very much on the high end for tornadoes in 2022 for the US, near the highest number of confirmed tornadoes since 2000.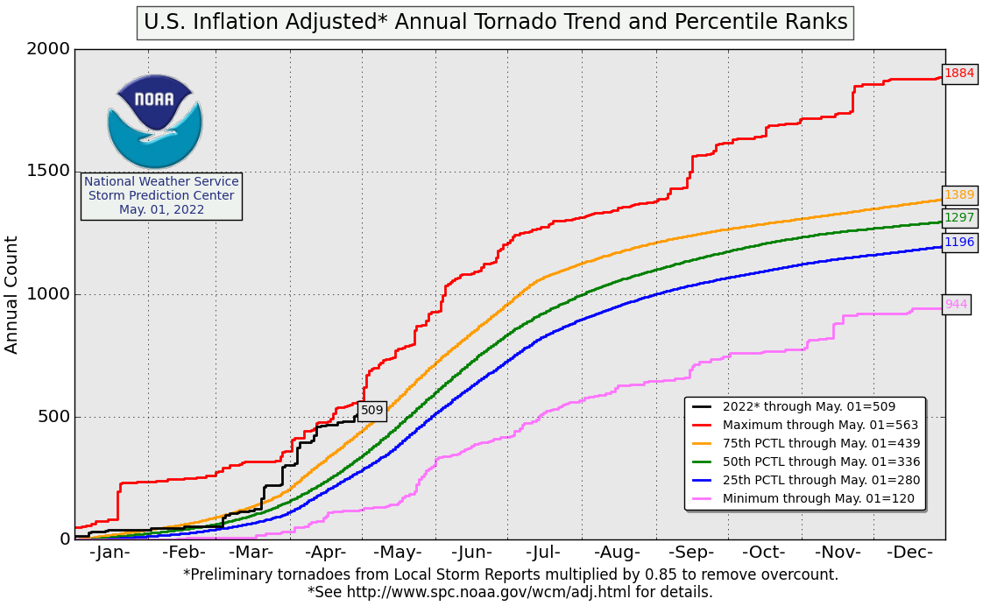 As of April 28, you can see the wind, hail & tornado reports plotted for the Lower 48 for 2022.
You can see a lot of wind reports & one tornado here, but a majority of these reports were on one single night back in early March when we saw widespread damaging winds & the Cass County EF0 from a squall line.
Interestingly, we were barely in a MARGINAL RISK for severe weather that night with SPC keeping us pretty chill in severe weather in thoughts that we would not be unstable enough.
We, given the high unidirectional shear & low-level jet with more instability than expected gave us a SLIGHT to ENHANCED RISK-style event with even a gust of 74.5 mph southeast of Monon & a 76 mph wind gust 2 miles west of Rochester.
It is just like a recipe. Any small extra amount of ingredient could mean a completely different flavor being tasted. My wife is of Lebanese descent & we always add Lebanese touches to cooking. One is cinnamon in spaghetti sauce. However, you can't put TOO much in or it will overpower the taste. It has got to be the right mix. When you taste the sauce, you know it is something different in a good way, but you can't put your finger on it. If you put a slight bit more, it is too much & it tastes like pumpkin pie.
Severe weather is much this way. You have an overall recipe available, but the individual, small amounts of any ingredient matter very, very much.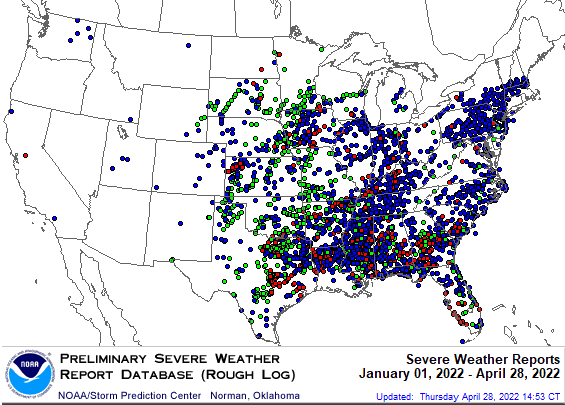 Note the temperature anomalies late month.
This is on May 25. Note the high temperature anomalies at 13-16 degree above normal.
Normal highs for that date are 76-78.
This would equate to highs of roughly 90-93.
My thoughts are on brief severe weather around Memorial Day, then cooler, followed by big heat developing with dry, upper ridging.
The good news is that we will have windows to get the corn & soybean crop out this month. Vegetable growers, you will have better conditions to get the crop out as well with consistent warmth.
Hot upper ridging should develop in the first half of June.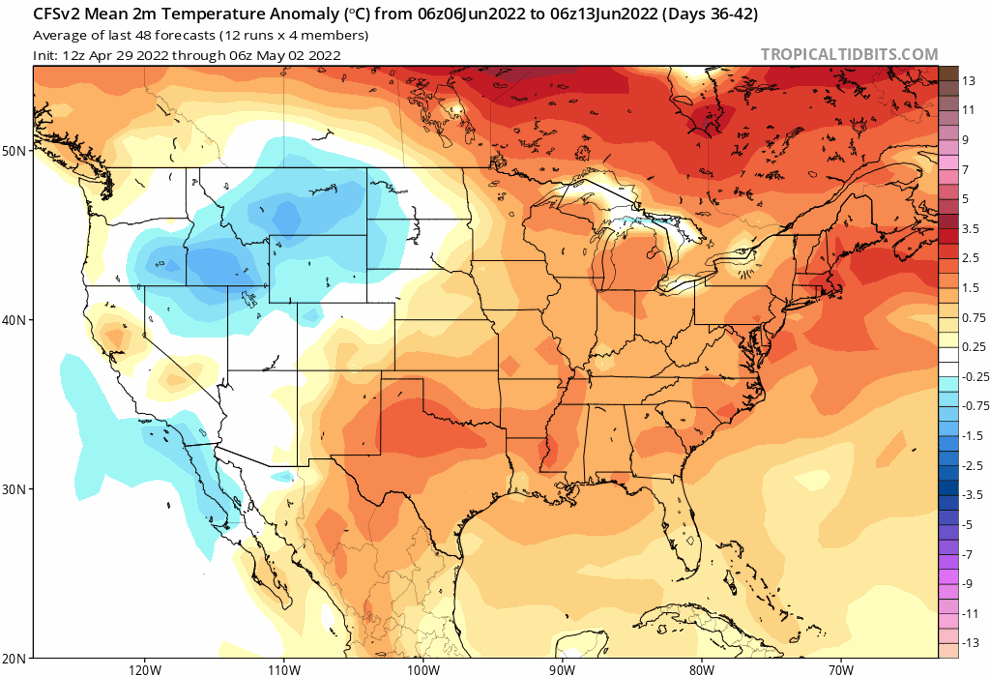 Good news for area farmers is that there is a trend to put us in the path of the "Ring of Fire" at times.
This could bring severe weather, but it would also tend to bring us welcome rainfall to get these crops established & well on their way to better handle the drier, hot weather ahead.
.